When, where
April 26th, 10:30 (CET) on Webex. The seminar is freely accessible and open to everyone. 
Click here to join the seminar
Speaker
Alex Barco Martelo (University of Amsterdam)
Abstract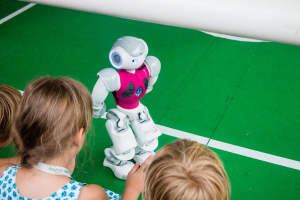 Social robots are increasingly being developed, tested and used in healthcare contexts. Specifically, children present unique care needs and social robots may provide a useful platform through which these needs can be met. Robots could assist children managing chronic illness through education and encouragement to perform healthy behaviors, help distract children coping with acute medical procedures, engage them in learning specific social skills or provide companionship and comfort. In this seminar, we will talk about the field of social robotics for children presenting real projects in healthcare contexts that I have been involved in over the past years.
About the author: selected publications
Peter, J., Kühne, R., Barco, A. "Can Social Robots Affect Children's Prosocial Behavior? An Experimental Study on Prosocial Robot Models". Computers in Human Behavior, 2021.
Van Straten, C. L., Peter, J., Kühne, R., & Barco, A. "Transparency about a robot's lack of human psychological capacities: Effects on child-robot perception and relationship formation". Transactions on Human-Robot Interaction, 2020.
Barco, A., Walsh, R. M., Block, A., Loveys, K., McDaid A., & E. Broadbent. "Teaching Social Robotics to Motivate Women into Engineering and Robotics Careers", poster presented in Proceedings of the 4th ACM/IEEE International Conference on Human-Robot Interaction (HRI), Daegu, Korea (South), 2019.
Dawe, J., Sutherland, C., Barco, A., & Broadbent, E. "Can social robots help children in healthcare contexts? A scoping review". BMJ Paediatrics Open, 2019.
Albo-Canals, J., Barco, A., Relkin, E., Hannon, D., Heerink, M., Heinemann, M., Leidl, K., & Bers, M. "A Pilot Study of the KIBO Robot in Children with Severe ASD", International Journal of Social Robotics, 2018.
Barco, A., Albo-Canals, J., Garriga-Berga, C., Vilasís-Cardona, X., Callejón, L., Gómez, C., & López-Sala, A. "A drop-out rate in a long-term cognitive rehabilitation program through robotics aimed at children with TBI", paper presented in Proceedings of the 23rd IEEE International Symposium on Robot and Human Interactive Communication (RO-MAN), 2014.